story
Tātai Hono - Behind the Weave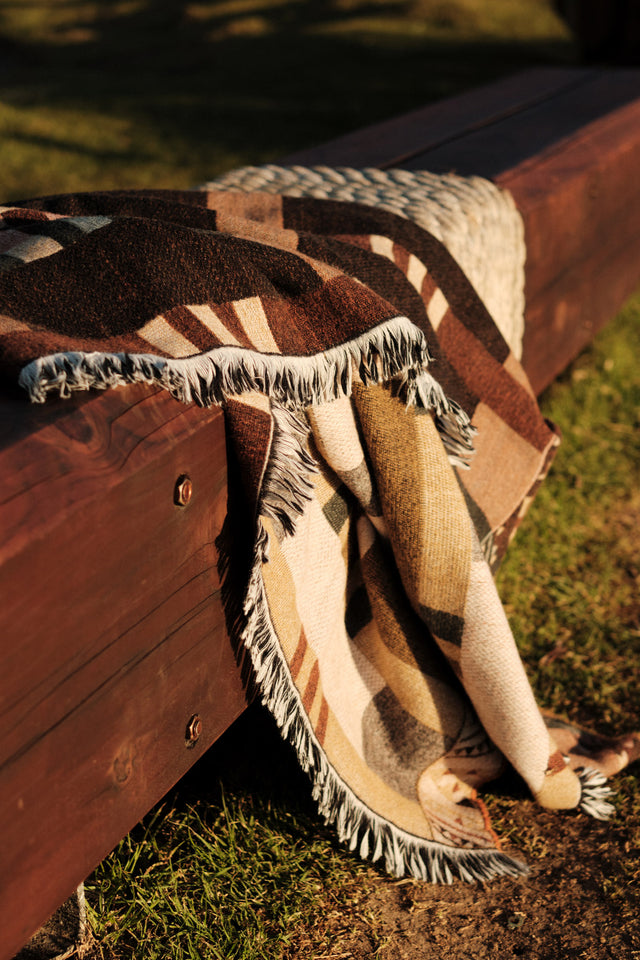 Inspired by our connections to each other, to our environments and what we care for, which are often intangible and unseen. Fortunately, there are multitudes of tangible, touchable, physical structures in te ao Māori that detail the limitless networks of connections and relationships within and all around us, such as Whare Tupuna.
As with the design of our blankets, the construction of the traditional meeting house is full of design elements and interventions, all with narratives that speak to our worldview and identity. The roof itself can serve as a blueprint, reflecting the mana (inherent prestige) that we each carry and our connection with our past, our future, our environment and each other.
The ornately decorated central beam or spine of the house above reflects the origin of mana, Te Mana Atua, the divine prestige derived from whom life began. This mana is also embodied in our natural environment, sky, earth, water and fire and all that exist of the natural world have this godly lineage.
From above, the rafters of the house descend and identify the inherent quality of mana within our unique genealogy. The rafters are bound in place and strengthened by kaho or battens, each reflective of connection & union, events, experiences and moments of significance in our heritage.
Where these rafters meet the walls of the house, stand our pou whakairo or carved pillars of ancestral figures, these pou (pillars) stand upon the earth, representative of their mana established over their domain. We lie at the feet of our tupuna (ancestors) not only as the culmination of our inherent prestige but the current caretakers of our mana tuku iho.
As we glance around the whare, we see the many other descendants of great lineage, whether a close kin or a distant relative, we acknowledge our connection, our common unity.
This blanket design reflects a limitless network of connection & relationships, with our past and our future, our natural environment and each other.
It serves to reassure us of who we are, confident in our unique mana and identity and best positioned to take up the many opportunities to connect and grow our support network.